Whether you are looking to stay in Charleston overnight or on a family vacation, these hotels provide a lavish experience. Charleston is home to rich culture, an abundance of history, and luxury living. These hotels prove that Charleston offers some of the best stays in the south!
Now in its 35th year, Condé Nast Traveler's annual Readers' Choice Awards continues to capture the travel experiences their readers love best, from hotels and airlines to cruises and islands. Plus: Odes to the properties that keep you coming back, meditations on beloved cities, and more.
The numbers prove what we already knew: Enthusiasm for travel has never been higher, as demonstrated by the nearly quarter of a million of you who filled out this year's survey. From the top large U.S. city to the top international airline, this year's list is a testament to the staying power of perennial favorites, through thick and thin. Consider it a primer on where to go next—and how to get there. Here are the top hotels in Charleston, as voted by Traveler readers.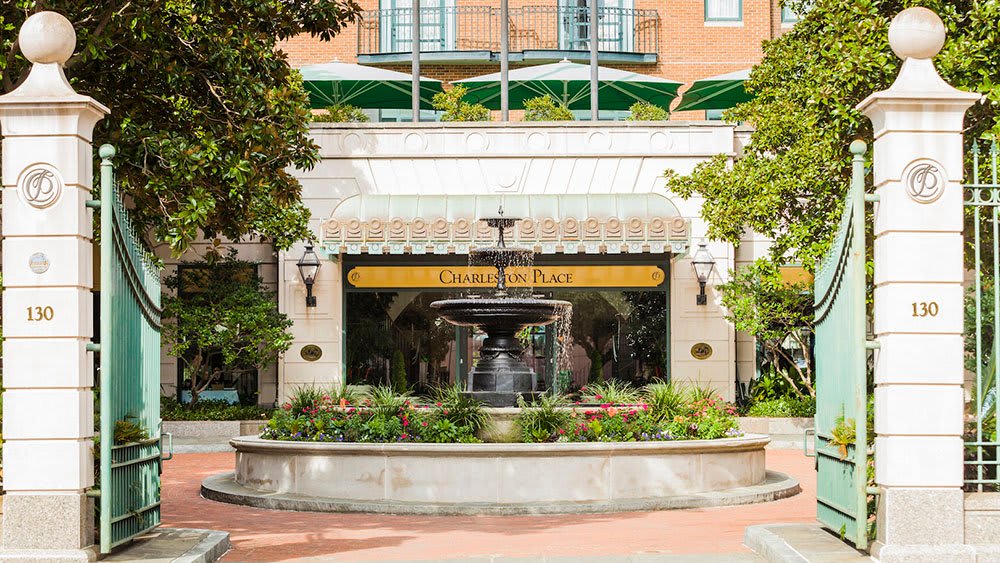 10. Charleston Place
A grand hotel makes grand statements, and The Charleston Place does just that. In winter, they make it snow; for Easter, they carpet Market Street with "grass" and scatter thousands of colorful eggs for the kids. The hotel creates a bit of magic for the community at large. Dominating a city block, its maze of shops and restaurants leads to a central Italian marble lobby with a gravity defying 12-foot crystal chandelier and Georgian open-arm staircase. Charleston–based Beemok Hospitality Collection acquired the 433-room hotel in October 2021, so it's no longer a Belmond, but you can still count on the constants: genuinely cheerful service, classic design touches, fine dining with live jazz, and a 50-foot infinity pool with retractable glass roof and sun deck.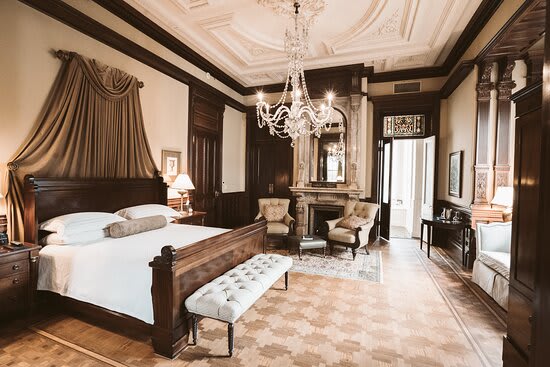 9. Wentworth Mansion
Towering above the Harleston Village neighborhood just four blocks west of all the downtown action, Wentworth Mansion can't be ignored: It's an unapologetically grand tribute to Second Empire architecture. Hotel guests are the modern-day beneficiaries of original 1886 owner Francis Silas Rodgers's spare-no-expense taste: 14-foot ceilings, Tiffany windows, hand-carved moulding, huge marble fireplaces, gargantuan pocket doors, crystal chandeliers, and a rooftop cupola with sweeping views out over the city. Exclusive to guests by morning and open to the public by night, Circa 1886 restaurant occupies the carriage house a stone's throw away, across the mansion's formal gardens. Dinner is refined and hyperlocal, an incredibly artful take on classic Lowcountry cuisine.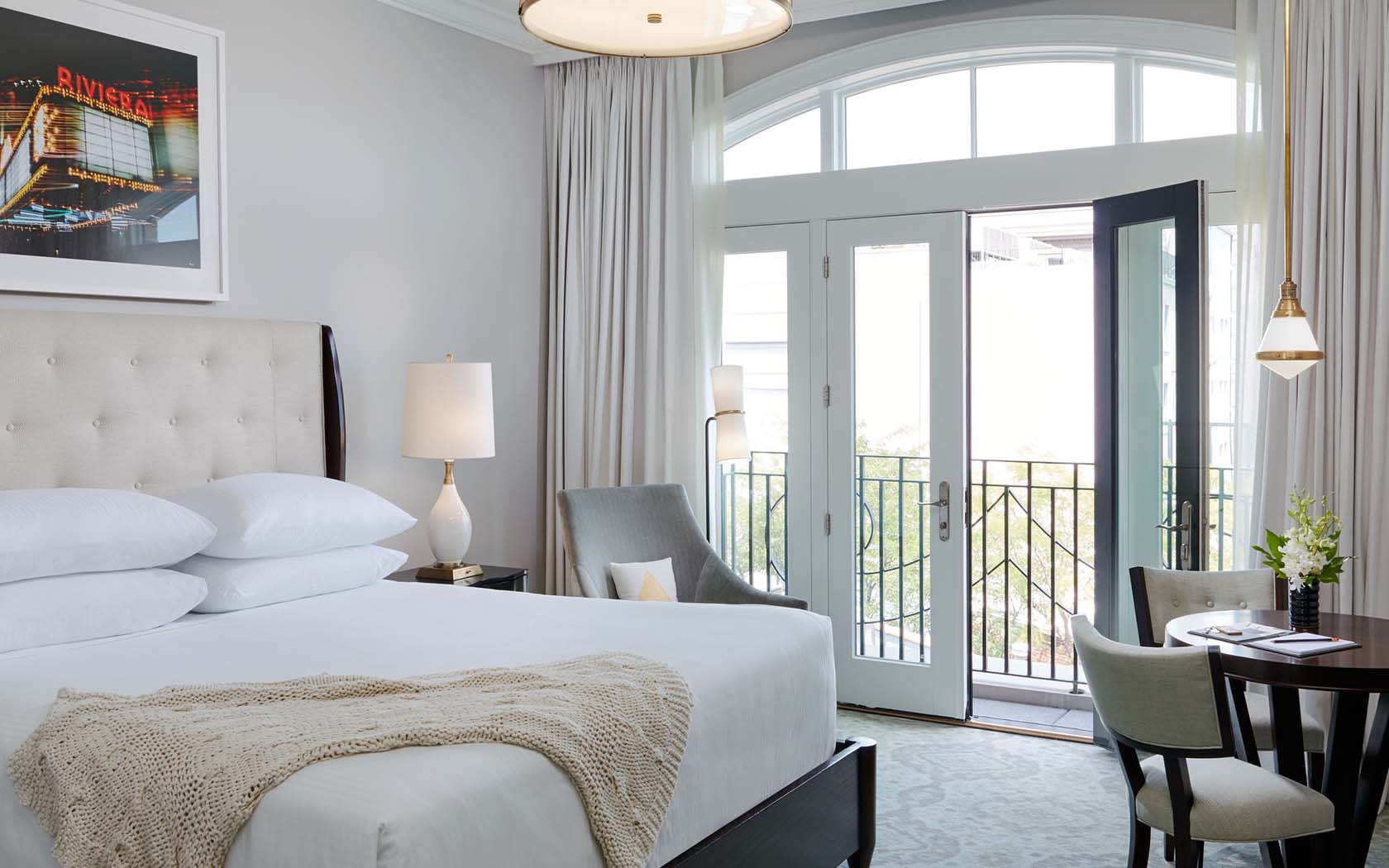 8. The Spectator Hotel
Immediately south of Charleston's historic market, this boutique hotel attracted instant raves when it opened in the summer of 2015. The lobby is a stunner, with features that channel 1920s glamour with a contemporary twist: a gently cascading waterfall wall, a hand-painted bird mural, a stuffed white peacock, and amethyst-colored drapes. The bar is the hotel's greatest strength, both in design and service. Bartender Allen Lancaster bristles at the term mixologist, but he's creative indeed, incorporating ingredients like grapefruit bitters, chamomile-lemongrass honey, orange blossom, and rosewater perfume into his daily creations.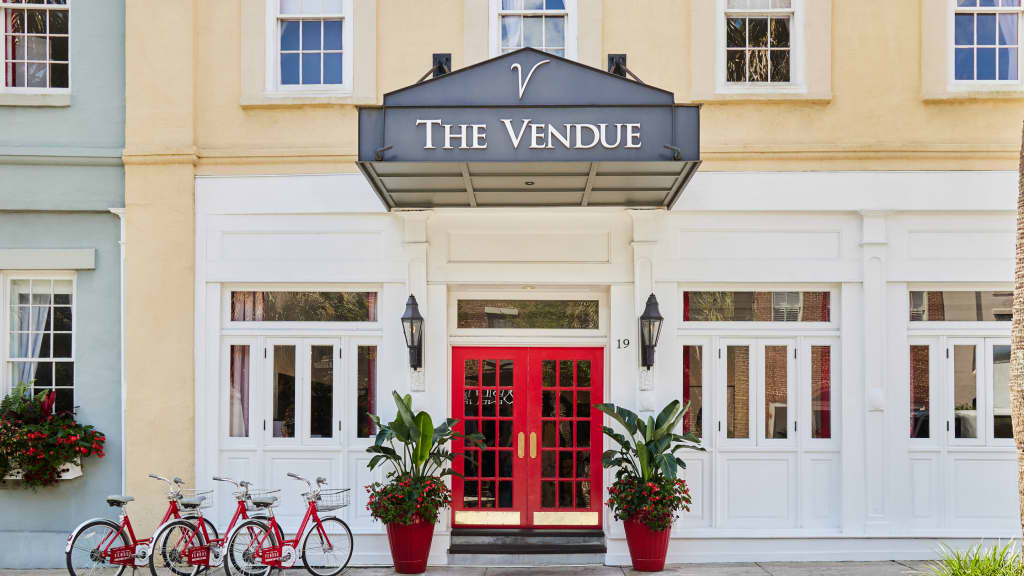 7. The Vendue
Don't let the historic façade fool you: This hotel will blow your mind. Conceived as an ever-evolving, progressive "art hotel" with a full-time docent and rotating exhibits, The Vendue is never static. In the past, for instance, the theme has been "red and white," which translated to a giant red gorilla at the end of a gleaming white hallway packed with provocative paintings, arresting sculptures, and wall hangings. We can't tell you what to expect when you arrive, because change and evolution is the point. The entire hotel is a conversation starter. Think of a tea party attended by Andy Warhol, Alice in Wonderland, and Louis XIV.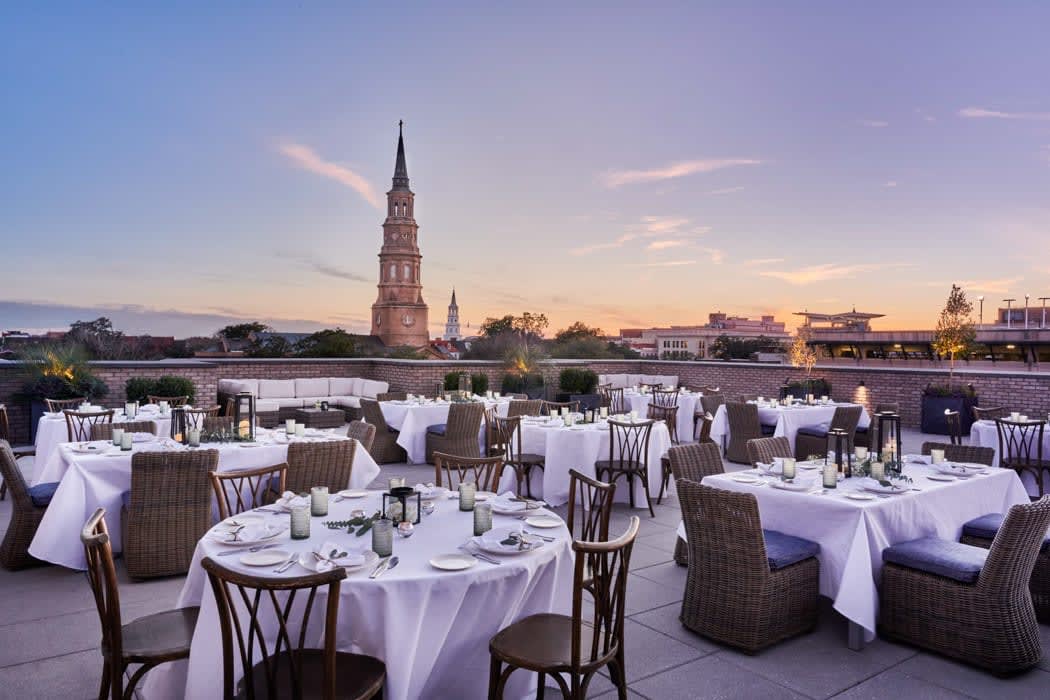 6. The Loutrel
The Loutrel splashed onto Charleston's hotel scene with palpably new construction and a prime location, just south of City Market. The boutique 50-room property looks and feels stylishly contemporary, and it consistently aims to bring the outside in: Calamondin-orange topiaries flank the lobby, delicate cherry-blossom branches spike the floral arrangements seasonally, and living orchids accent every room. Rooms are crisp, minimal, and spacious, with floor-to-ceiling windows and double-paneled privacy sheers. The Loutrel's "wow" factor is its rooftop terrace, cresting the mature tree line of Charleston's historic French Quarter. Early risers take morning coffee up here to watch the sun illuminate a sliver of harbor, returning hours later to enjoy an evening cocktail.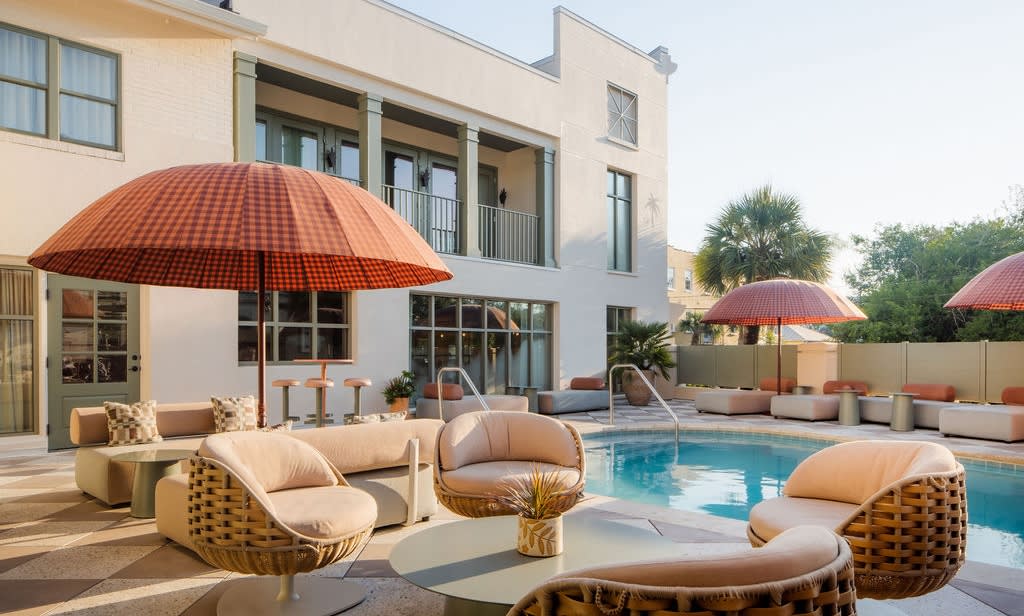 5. The Ryder Hotel
Inspired by Jack Kerouac's semifictional character Japhy Ryder, this Charleston hotel is all about shaking things up a bit and relishing the journey. (If you miss that undercurrent upon arrival, there's a stairwell photo of a topless woman strumming a guitar to remind you to loosen up a little.) A welcome craft cocktail, muddled to order, greets you at check-in. At the indoor/outdoor poolside venue, Little Palm, the sounds of cocktail shakers and Motown grooves keep toes tapping—whether you're wearing flip-flops, acrylic heels, or no shoes at all. And when it's time to wind down, the La Bottega robes, walk-in showers, and airy aesthetics in the rooms have you covered.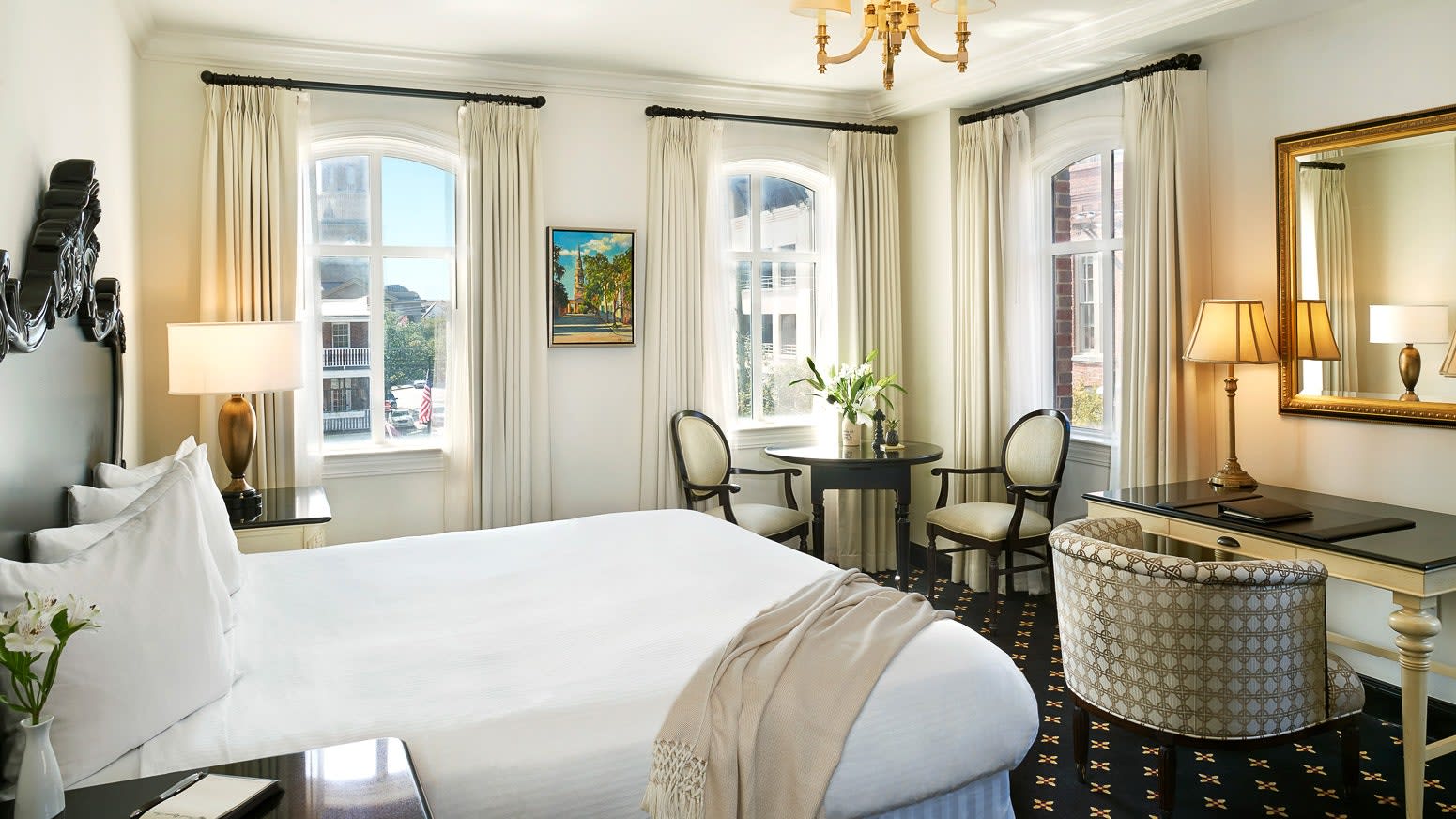 4. French Quarter Inn
Steps (literally) from the market, an ivy-covered archway promises cool shade as you make your way down a brick pathway off Church Street into the French Quarter Inn. Before there were great hotels on seemingly every corner in Charleston, this hotel was welcoming and wooing guests—and not much has changed in that regard. The idea is that upon arrival, you'll know you're in a special place (cue the Champagne greeting). The service remains as personal as ever, with an admirable attention to detail—staff remember names and preferences—served with a dose of quiet hospitality.
3. The Dewberry Charleston
Since The Dewberry opened its doors in the fall of 2016, the fig ivy at its base has diligently advanced upward, clinging tightly to the ground-floor columns. Now the hotel appears to float on a garden. Which is just as founders John and Jaimie Brown Dewberry intended, bringing an unexpected lightness to the limewashed eight-story midcentury monolith. You'll love its JFK–era cool factor: Across the giant slabs of buffed marble, past the warm cherrywood paneling with unlacquered brass inlay, waits the popular Living Room, where guests can sink into a cozy leather high-back. Locals duck into the hushed spa for Natura Bissé facials and fill the outdoor patio for weekend brunch. But the largest draw will always be the rooftop for sunset cocktails, nibbles, and maritime breezes among the citrus and olive trees, with views of Charleston's harbor. The vibe is elevated and elegant but also fun and not too fussy. In one of America's most historic cities, The Dewberry manages to pay homage to the past while feeling refreshingly au courant.
2. Hotel Bennett
Charleston keeps its buildings low and its historic church steeples high, which meant that owner Michael Bennett had to fight all the way to the State Supreme Court for permission to build his lofty, nine-story hotel. But the view from its rooftop bar and pool is unmatched: On the horizon line, the sky meets a ribbon of shimmering harbor encircling the lower peninsula. Smart guests park themselves up here, settling into cushioned wicker with a craft cocktail to watch snowy egrets migrate in the setting sun. The lower levels of this grand hotel are worth leisurely exploration, from the sprawling second-floor ballroom lounge to Camellias, the stylish, pink Champagne bar tucked off the breezy marble lobby. The sunny corner bakery La Pâtisserie has a pressed-tin ceiling along with fresh pastries, strong coffee, and stacks of newspapers that attract Charlestonians and out-of-towners alike. The hotel spills directly onto Marion Square, a public park known for its weekend farmers market—just one more perk of staying here.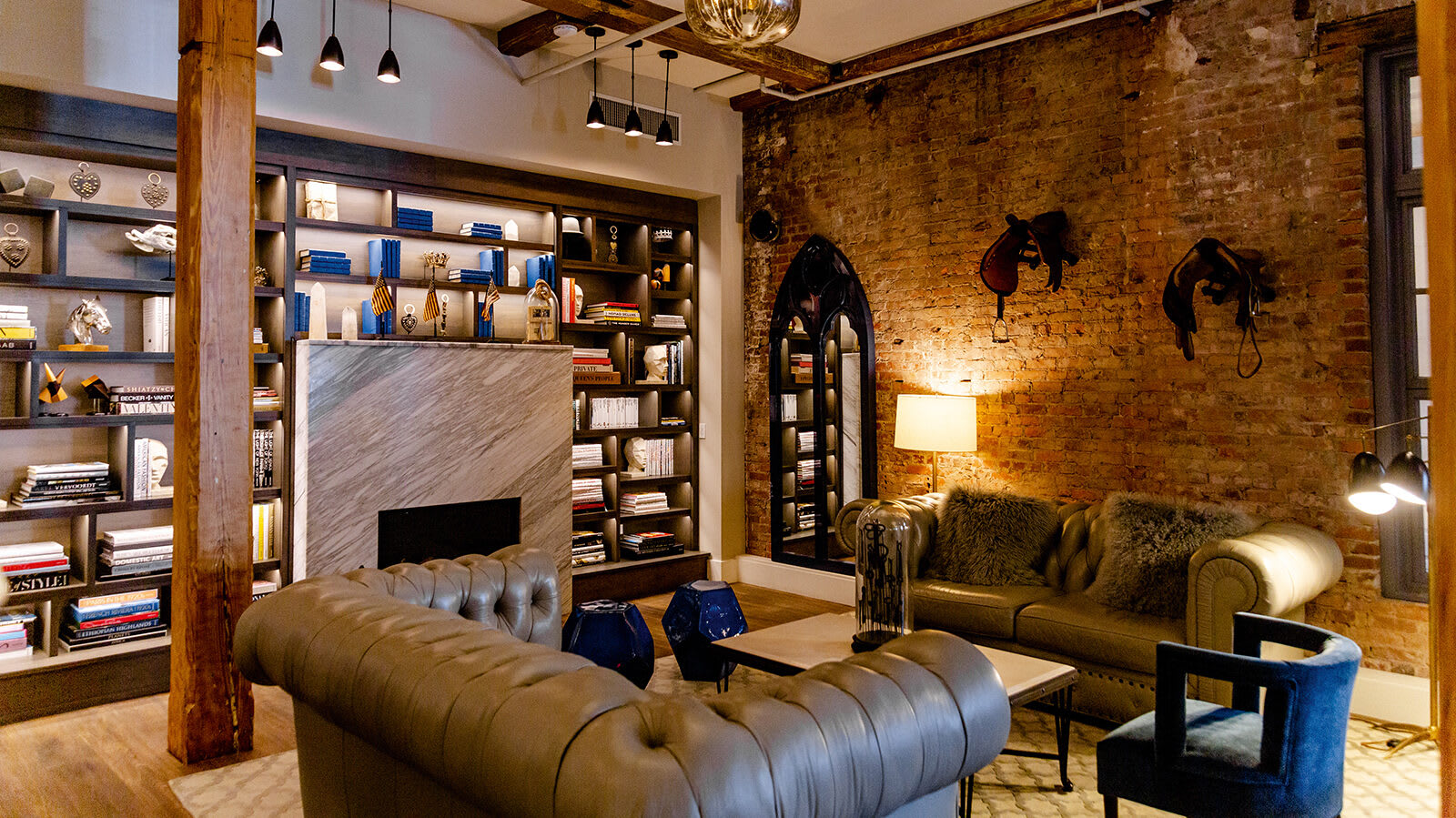 1. The Restoration
A large-scale photograph of an Icelandic horse at check-in is the first clue that this hotel thinks outside the box; the second is the floor-to-ceiling Angel Oak photos that make the elevator feel like a treehouse. A hotel favorite especially with New Yorkers, The Restoration's urban aesthetic, spacious rooms, and cutting-edge photography installations make it a trendy treat. Be sure to check out rooftop restaurant The Watch, where the small bites menu includes crab cakes and raw oysters. This place is all about the little details: the butter-soft gray bathrobes, the designer bicycles with built-in baskets, the intriguing coffee table books that line the library bookshelf next to a mounted alligator skull. Join the Insider's program to enjoy freebies like continental breakfast, delivered with a soft knock on the door and tucked into a leather-clasped wicker picnic basket. They're so attractive that the staff has occasionally had to remind guests not to make off with them!