If you're looking for luxury, Charleston is the place to find it.

Many people love Charleston, home to longtime residents and young professionals alike. Charleston is busy but sumptuously beautiful. Its downtown features historical buildings and an old-time charm merged with contemporary comforts and some of the world's best walking, shopping, and dining.

The cities and neighborhoods around Charleston are also full of panache, making Mount Pleasant, a neighboring city, and Daniel Island, an island situated within the city's twin rivers, two important places to explore when looking at the Charleston real estate market.
In recent years, families sent Charleston real estate prices up as companies switched to a work-from-home model, according to the
Wall Street Journal
. They were seeking more space for more comfortable home living, and Charleston's luxurious neighborhoods quickly became a popular spot.
Charleston named nation's top city
Photo Courtesy of The Crazy Tourist
Nicknamed "the Holy City" because of the many steeples that punctuate the city's skyline, Charleston has been named by
Travel & Leisure
magazine as the best city in the United States and, in 2021, earned the 18th spot on the magazine's list of the Best Cities in the World — the only American city to be featured.

No wonder Charleston's real estate market continues to grow.
While downtown, including the historic
King Street
, features a wide range of luxurious restaurants, bars, hotels, and more, there is quite a bit of traffic, making it tricky to get around, even for long-time residents. Traffic issues may make some of the surrounding cities more appealing if you aren't interested in having high-end restaurants and shopping within walking distance of your home. Mount Pleasant and Daniel Island are two such communities to consider.
Mad about Mount Pleasant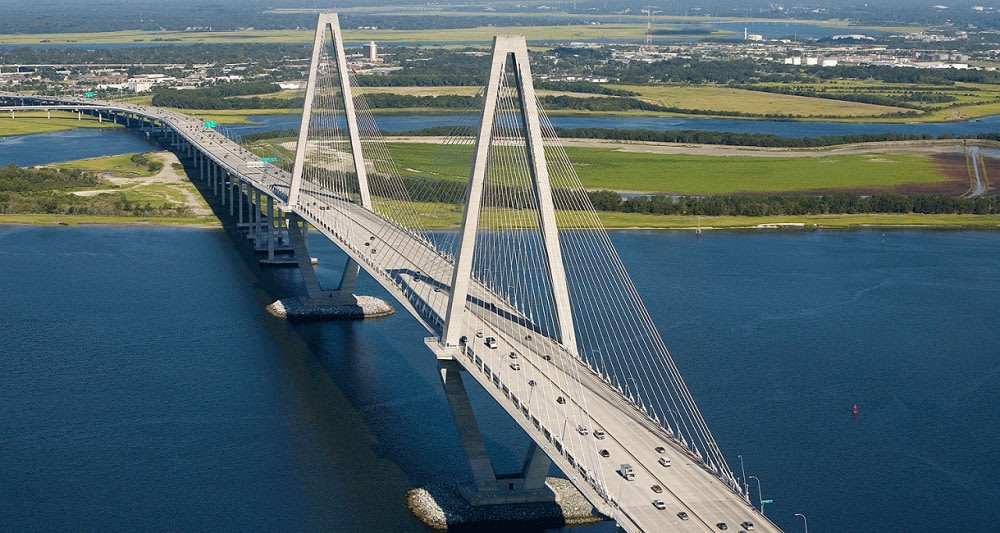 Photo Courtesy of HDR, Arthur Ravenel Jr. Bridge
There's a lot to love about
Mount Pleasant
, an upscale, growing city just north of Charleston.

The cable-stayed Arthur Ravenel Jr. Bridge — at one time the longest bridge of its type, the tallest structure in South Carolina, and a significant part of Charleston's skyline — crosses the Cooper River and connects Charleston to Mount Pleasant, offering a striking visual entry into the city.

Considered perfect for families, Mount Pleasant boasts excellent primary schools and proximity to Charleston's higher education establishments, which have been recognized as being among the nation's best.

Mount Pleasant homes for sale range from single-family homes to condos and townhomes, many found in the region's most exclusive neighborhoods.

The city itself is decidedly upscale. Mount Pleasant has a median income that's double that of South Carolina itself, and it is one of only seven large cities in the United States that can say so.
Thanks to its high-end vibe, in 2017, the publication
24/7 Wall St.
called Mount Pleasant one of the 50 best cities in the U.S. to live in.

In addition, for those who love wandering through museums and taking in the city's history, Mount Pleasant has a higher concentration of museums, natural landscapes, and other amenities than most cities nationwide.

Given the benefits, Mount Pleasant homes for sale are worth studying for anyone looking to make the Charleston area their home.
Daniel Island is luxurious, upscale
Located just across the river from Mount Pleasant, Daniel Island homes for sale are grand and must be considered alongside the real estate that makes Charleston so alluring.

Waterfront views give Daniel Island a serene calm that's a significant juxtaposition against the hurried appeal of Charleston.
The city features great restaurants. The
Daniel Island Country Club
offers Harry's, a high-end restaurant named after Harry Frank Guggenheim, who once owned the island and used it as a hunting club. Other eateries on Daniel Island celebrate the seafood commonly found on the shores of the Atlantic, including soft shell crab and oysters.

Daniel Island is as exclusive as the Guggenheim name suggests, which has a 30-year history as a community outside of Guggenheim holdings.

Because it is such a new community, Daniel Island homes for sale are primarily high-end, adding to its luxurious appeal, and include beach homes, condominiums, and townhomes.
Charleston real estate market grows
Are you considering the Charleston area for your next home? A real estate agent with access to some of the most exclusive listings in the region, including Daniel Island homes for sale, downtown Charleston homes for sale, and Mount Pleasant homes for sale, can help you find the right parcel of real estate to meet your needs, whether that's a mansion on Daniel Island or a historic home along the water in Charleston Harbor in the Battery region of the city. Mount Pleasant's upscale neighborhoods also offer prime real estate to make Southern living completely, perfectly comfortable.
The city's real estate market remains vibrant. According to the
Charleston Regional Business Journal
, steady job growth and a strong economy are reasons behind the city's strong performance. Many people choose the popular city as their home.

In 2019, the magazine projected that Charleston's housing market would be among the top 10 in the country for the next five years, alongside Las Vegas, Colorado Springs, and Dallas/Fort Worth.
Are you ready to buy in this popular city? If so, reach out to one of the trusted local agents at
CHS Estates
for expert assistance today!