Daniel Island boasts core advantages over its neighbors. Until the early 1990s, this island was completely undeveloped and was used as farm, ranch, and hunting land by the Harry Frank Guggenheim Foundation. When it was sold to a developer, a planned community was constructed with the aim of optimizing every part of the residential experience. From a cohesive design scheme to the size of properties and proximity to business centers, life in Daniel Island is decidedly idyllic and located only twenty minutes from the variety and cultural delights of downtown Charleston.


This community offers the best of both worlds - the privacy and peace of island life with the convenience of its mainland counterparts by the beautifully engineered bridge soaring over the Cooper River. Whether it's by car or a scheduled ferry, access to the rest of the region is as simple as it can be.
What to know before relocating to Daniel Island
Part of Charleston
Hearing the name Daniel Island could lead you to believe this island is its own city. However, Daniel Island is actually part of the city of Charleston. You can see these in the house design styles, the local culture and charm, and its history. You can find gorgeous tree-lined residential streets akin to those found in Charleston but with the resort-like amenities of a planned community.


Daniel Island has the distinct advantage of being recently designed and developed. Although it is steeped in history, the development of Daniel Island Real Estate has been happening for under only thirty years. Such housing constructions address many of the back issues faced by cities, allow growth to be controlled and planned accordingly, streamline the styling across residential properties, and allow convenient access to goods and services throughout. In terms of residential properties, large front porches, pillars, porch swings, and southern charm are all common features. New development also includes an impressive inventory of luxury condos and townhomes, allowing for many to find a property well suited to their needs.
Geography
Even though it is an island, this community is not located off the coast with all the abrasive elements of an oceanside location. Instead, the
Cooper River
and the
Wando River
merge at the top of Daniel Island, with the Mt. Pleasant peninsula acting as a significant buffer from the coast. Nevertheless, access to the gorgeous Atlantic beaches is a breeze, as both rivers lead directly to the ocean - perfect for a boat or kayak ride. Additionally, route 526 bisects the island and connects residents to Charleston in the west and the coast in the east.
Access to businesses and medical care
You do not need to leave Daniel Island to get great
medical care
, attorneys, dry cleaning, or any other critical services you may need. The island communities house many small businesses and medical facilities, allowing residents to conduct most of the business within a short distance of their homes.
Recreational activities
The great outdoors
Residents of Daniel Island have a plethora of activities at their fingertips. Community swimming pools, tennis courts, and walking trails provide plenty of ways to maintain an active and healthy lifestyle. Kayaking, fishing, and nature watching are everyday occurrences as the community is surrounded by spectacular waterways in addition to the many peaceful streams and creeks winding their way through the island.
Whereas most city and suburban dwellers have to travel a distance to enjoy a concert or attend a sporting event, those who live on Daniel Island have a world-class venue right in their backyard. Formerly known as the Volvo Car Stadium, Credit One hosts shows like the Zac Brown Band, Miranda Lambert, the Charleston Open, and many other noteworthy events throughout the year.

Golf courses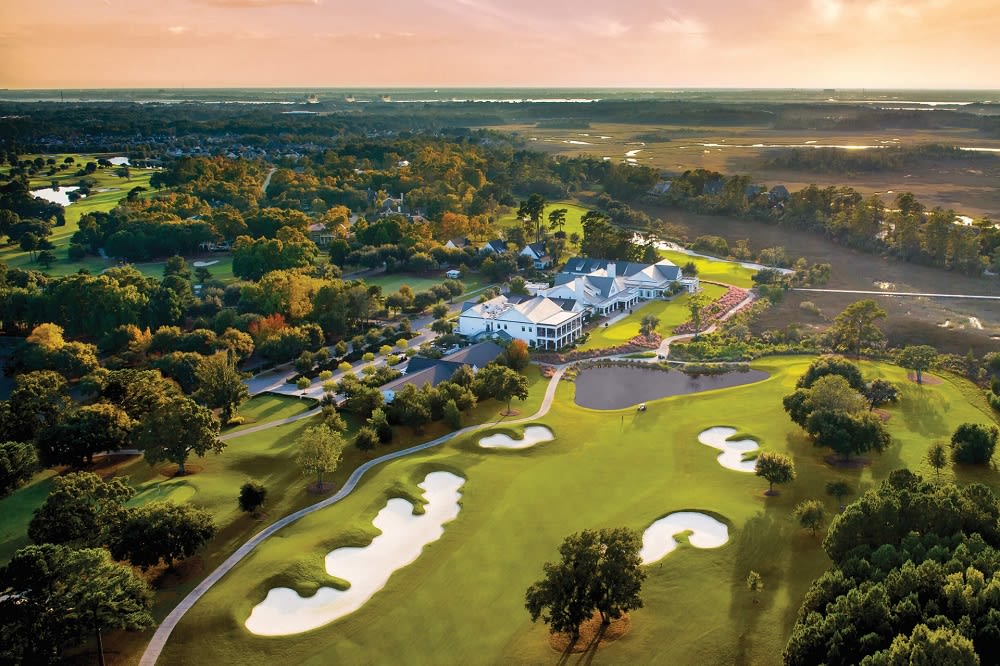 Contributing to the community's relaxed, desirable lifestyle,
The Daniel Island Club
provides visitors with two nationally ranked private golf courses. They're both designed by Tom Fazio and Rees Jones, and this resort-like
club
is complete with fine dining, beautiful swimming pools, tennis courts, and sumptuous lounge spaces.
If you prefer to spend your time on the water, you can expect to spend time at the local yacht club. It offers members an opportunity to come together and embrace their nautical location. There are organized events such as the Summer Fun Regatta - an enjoyable bonding experience for the whole boating community. The yacht club is a full-service establishment as well, with two public boat docks recently added.

Waterfront Park
As the name describes,
Daniel Island Waterfront Park
is located on the tranquil waterfront of the Wando River. The park provides residents with water views, fishing piers, walking trails, and playgrounds. This is a wonderful way for the whole family to have an enjoyable day of outdoor fun.
Local newspaper
Despite their prevalence many years ago, local newspapers are not common in today's world. The ease of internet access has challenged many local papers to stay afloat. However,
The Daniel Island News
treats residents to news along with local details such as sports, businesses, opinions, and Daniel Island real estate. There are even classified ads and a community calendar. This local newspaper is a small powerhouse of information connecting the communities of Daniel Island – a distinctive feature hard to find elsewhere.
Want to purchase Daniel Island real estate?
Living on Daniel Island is easy. Each planned neighborhood offers its residents a myriad of activities, opportunities to connect with neighbors, and ample housing options. Quick access to historic Charleston, beaches, and the airport further add to the benefits of living here. Ready to take the next step and start looking at homes in the area? Reach out to
McConnell Real Estate Partners
for expert guidance today!